Palm Sunday
Saturday, March 27, 2021
5:30 pm – Livestream with congregation * see note
Sunday, March 28, 2021
8:30 am · 11:30 am – Inside church * see note
10:00 am – Outside in the parking lot, with you in your car
Holy Thursday
April 1, 2021
 7:30 pm Mass of the Lord's Supper
Livestream with congregation *see note
Adoration of the Blessed Sacrament in Mary's Garden
for 1 hour after Liturgy ends
Good Friday
April 2, 2021
12:30 pm Stations of the Cross – Livestream with congregation * see note
2:00 pm Passion of Our Lord Jesus Christ  
Livestream with congregation * see note
5:00 pm Liturgical Service – parking lot with you in your car
Easter
Holy Saturday
April 3, 2021
8:00 pm Easter Vigil – Livestream with congregation * see note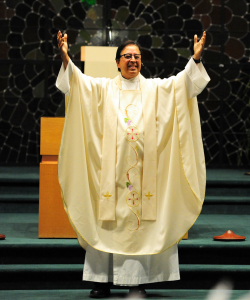 Easter Sunday Masses
April 4, 2021
8:30 am Livestream with congregation *see note
10:00 am – Outside in the parking lot, with you in your car
11:30 am Mass – Inside church *see note
* Note:  For indoor services, you must register online at
https://www.signupgenius.com/go/20f044aabaf2ca4f58-returning
For those of you who can't sign-up online,
please call the office 408 629-7777 ext. 107 to reserve your place.
Please provide your name, phone number, how many people will be attending
the specific Service during Holy Week you wish attend.  
You must also follow this procedure for all regularly scheduled Weekend Masses.